DENTAL BRANDING, WEBSITE, SEARCH & EVENT MARKETING
NEW PATIENT LEAD GENERATION
Client: Blue Turtle Dental
Horizontal Capabilities:
General Preventive Dentistry
Restorative Dentistry
Cosmetic Dentistry
Orthodontic Care
Periodontal Care
The Brief: Website, SEO, Content, Social
Blue Turtle Dental recently acquired the practice from another dental group and were looking to establish their unique value proposition and grow their practice by initiating a digital marketing campaign. To help them establish their brand and digital footprint, we created a fresh, modern, conversion-optimized website to function as the hub of all marketing campaigns.
Within 3 months of launching the SEO campaign, we got 45% of most profitable keywords high on Page 1 of Google search, resulting in half of all new patients coming from online search (15-20 new patients/month). We worked hard to build Blue Turtle Dental's online reputation that resulted in 58% new 5-star reviews across social channels in a period of 3 months. We also helped the practice market events through email and social media marketing, bringing a wide reach and top of mind brand awareness.
Results? (In 3 Months of Campaign Kickoff)
256%
Growth in qualified website traffic
200%
Growth in new patients from online sources
233%
Increase in Search Rankings
Digital Footprint & Marketing Strategy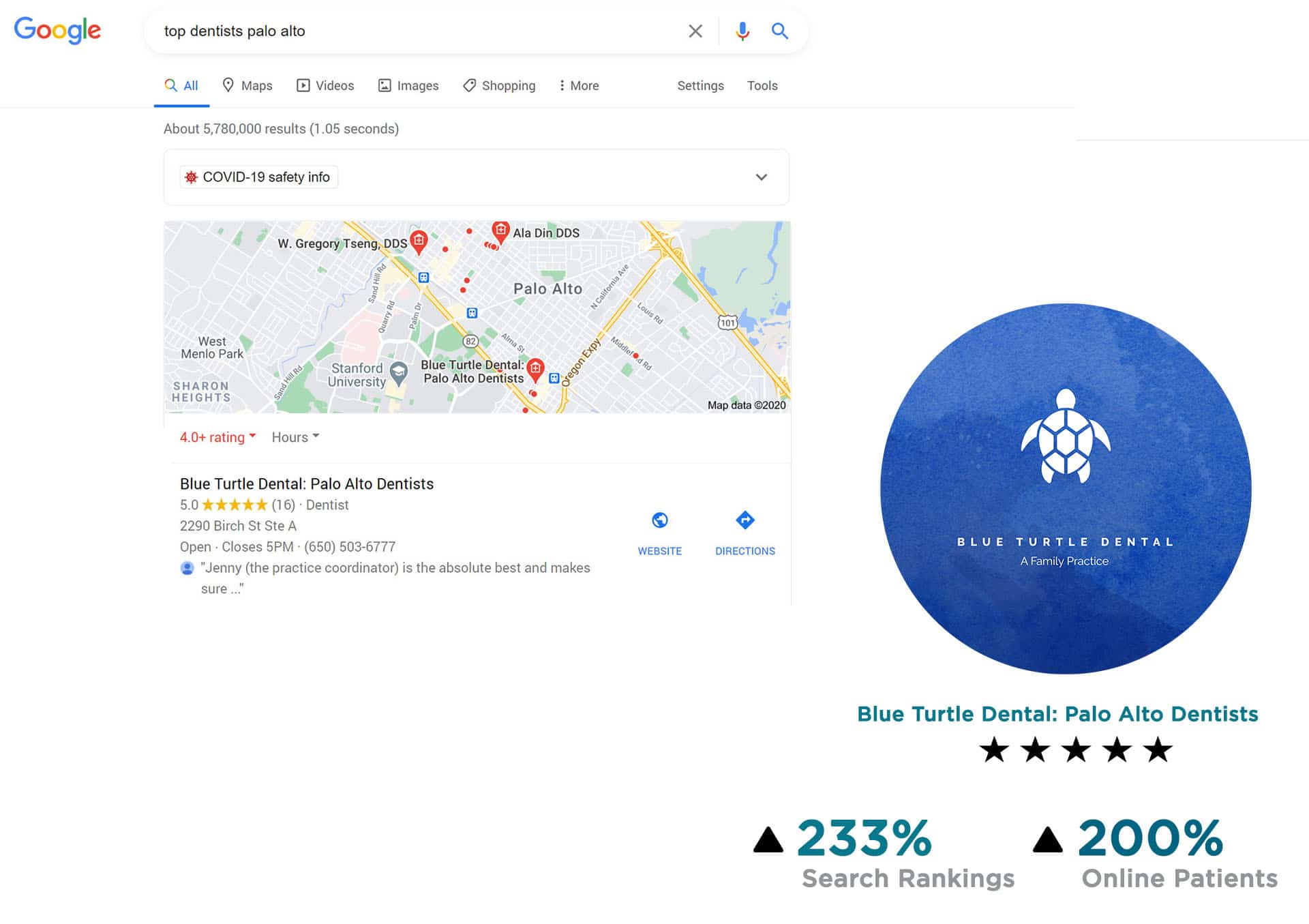 Launch of the new dental practice through a branded website optimized for conversions through trust building elements and landing pages designed for a friction-free experience.
Lead generation through conversion optimization strategies, on-page, and off-page SEO .
Email marketing to build top of mind awareness and repeat visits from existing patients.
The Process
Conversion Optimized Website & Digital Marketing
Step 1. Conversion Optimized Website
Launch of the new dental practice marketing through an exceptional on-page and off-page search engine optimization campaign coupled with a conversion-optimized website with trust building elements and landing pages designed for a friction-free experience led to Page 1 search engine ranking position after 12 weeks of SEO activity also witnessed a 233% increase in targeted traffic.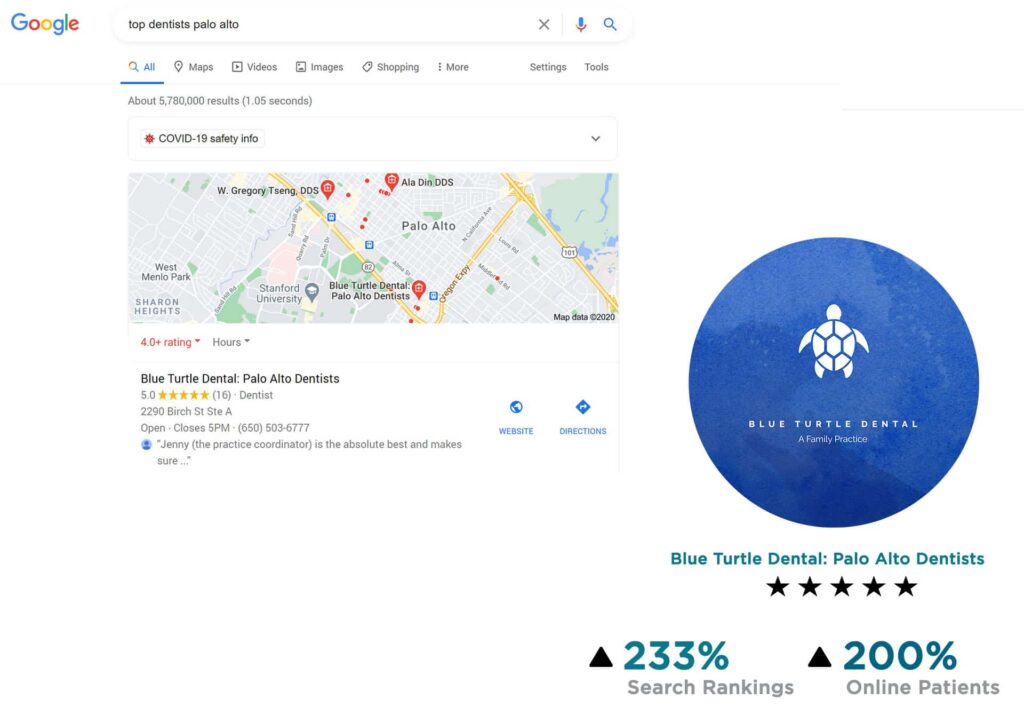 Step 2. Content Marketing & Reputation Management
Content marketing, including healthcare articles, guest blogs, PR articles, social media posts, and media publication as well as directory listing and review management to help build a solid reputation and brand reach for the dental practice.
Step 3. Event & Repeat Visits Marketing
Email and social media marketing drove interest and registrations for marketing events and resulted in lead generation.
After trying to work with other marketing partners, I contacted Snigdha and her Webtage team a few years ago and I have never looked back. They are professional, responsive, insightful -- I could go on. Webtage also engaged us in weekly meetings towards expanding our reach and developing materials to promote awareness about various health initiatives throughout the year. Through Webtage's efforts, Los Gatos Doc has seen an increase in patient referrals, provided numerous tips for leading a healthier lifestyle, and developed the capacity to communicate high quality and credible information in the midst of a health crisis. Whether discussing in depth market strategy focused on how to grow my business over the next 5-10 years or helping to design a simple and educative infographic about a pandemic which has been reshared far beyond my own practice, Snigdha and Webtage deliver the highest quality work on time, every time. I will do my best to continue my partnership with Webtage -- my business depends on it!

CEO, Los Gatos Doc, Inc.